2CHYP had a good week in both absolute terms and relative to REITs.  Some of the issues that had gotten overly cheap showed nice price recovery with AHH and IRT being particularly notable gainers.  We sold out of the IRT with hopes to be able to buy it back on the next drop.
We suspect that value may be coming back into the market's decision calculus after having been ignored for the better part of the past 2 years.  The general lack of growth along with a potential Fed hike in December are putting pressure on REITs and this pressure falls disproportionately on expensive REITs.  A 25 basis point hike can make treasuries look relatively desirable when compared to high P/FFO REITs with a 3% yield, but the 25 point rise will do little relative to a cheaper REIT like Global Net Lease which yields 9.3%.  It seems likely that investors getting a 9.3% yield will scoff at a 2% yield the same way they would at a 1.75% yield.
The same is true of growth.  A 10X P/FFP REIT does not need growth to justify its price, while a 20X P/FFO REIT looks rather silly when it fails to grow.  Fundamentally, value has made sense relative to growth for some time and it seems the market is finally catching on.  We will continue to monitor this trend to see if this week's hinting holds true.
Commentary may contain forward-looking statements which are by definition uncertain.  We retain no obligation to update or correct forward-looking statements should the available information change.  Actual results may differ materially from our forecasts or estimations.
2CHYP Portfolio Snapshot
10/21/2016 2CHYP Performance since inception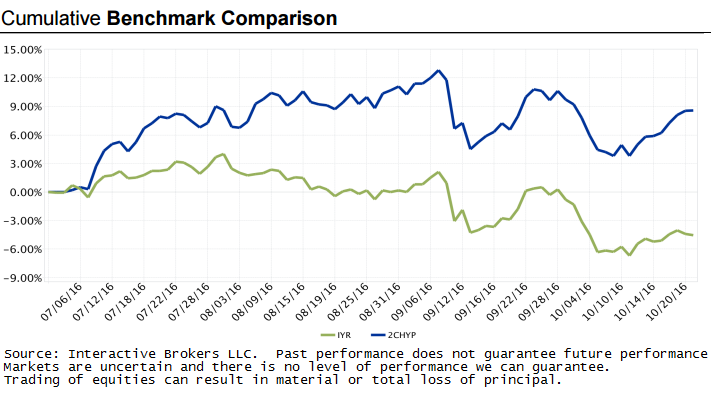 Performance Disclaimer.  Past Performance does not guarantee future performance.  Markets are uncertain and there is no level of return that we can guarantee.  Trading of equities can result in material or total loss of principal.
2CHYP Weekly Trade Confirmation Report