The return of value
The only way we have been able to make sense of this week's price moves is that value is coming back into the consideration of the market's collective decision making.  In numerous sectors, companies with similar fundamental exposure are having their stocks move in opposite directions and it seems as though the cheaper multiple stocks are up relative to their more expensive peers.  There are many possible explanations for this, but we think it is some combination of the following.
Value has been deeply out of favor so this move represents mean reversion.
A pickup in the appetite for M&A signals potential buyouts which favor cheaper stocks as they are typically the targets rather than the acquirers.
Rising interest rates have a disproportionately large impact on higher multiple stocks.
As a value-oriented portfolio, 2CHYP has fared rather well this week and we think there may be more room ahead for value as the pricing disparity is still above average.  The response to rising rates has been quite mild in our REITs as it is being offset by increased expectations of economic growth.  We will watch diligently to see that this expected growth actually manifests as failure to do so could result in a much harsher impact of higher rates.
Commentary may contain forward-looking statements which are by definition uncertain.  We retain no obligation to update or correct forward-looking statements should the available information change.  Actual results may differ materially from our forecasts or estimations.
2CHYP Portfolio Snap Shot
11/17/2016 2CHYP Performance since inception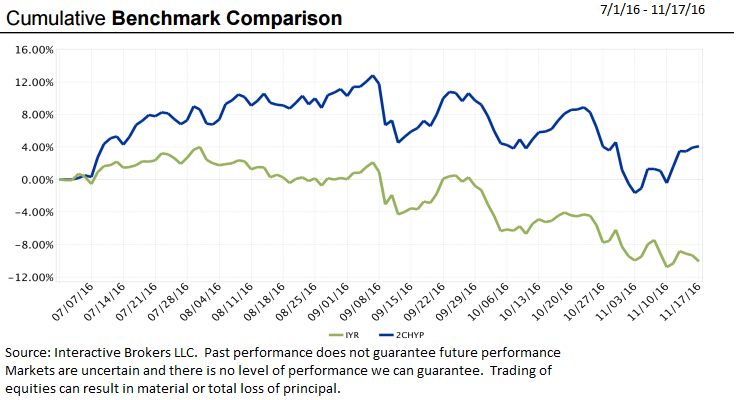 2CHYP Weekly Trade Confirmation Report