REITs returning to favor?
Over the last few years, REITs have sold down multiple times on rising interest rates.  As I have stated many times before, I do not believe REITs are fundamentally sensitive to interest rates as compared to the broader market, but even if I'm wrong, REITS should not have sold down.  Closing in on 2 years since the taper tantrum, interest rates have not gone up.  The 10 year treasury still hovers around 2.30%.  It seems each time Yellen hikes rates, the curve just flattens and the 10 year stays right where it was.
This week, we sense a different sentiment on the REIT universe.  It seems the bears are quieter and some money is rotating back in to the sector.  While we do not attempt to time the market, I think now would be a good time to be fully invested in REITs.  Healthcare REITs and specialty REITs are recovering quite well with NNN not far behind.  The only real laggard this week was the hotel sector and that is to be expected given the events in Syria and North Korea.  Any time geopolitical risks flare up, hotels tend to sell down.
Commentary may contain forward looking statements which are by definition uncertain.  We retain no obligation to update or correct forward looking statements should the available information change.  Actual results may differ materially from our forecasts or estimations.
2CHYP Portfolio Snap Shot
4/16/17 2CHYP Performance since inception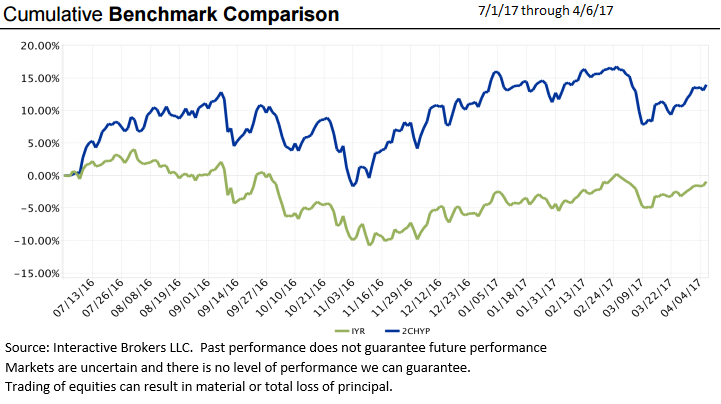 2CHYP Weekly Trade Confirmation Report