Rebound off the lows
I must confess regret to not having a larger allocation in OHI.  In hindsight it was remarkably opportunistic at $31, but we only a had a small position in 2CHYP.  Its fundamentals were far out of line with what the market was pricing in and OHI has gone a step further today with yet another dividend raise.  This adds to OHI's long streak of fundamental growth and corresponding dividend growth.
Heading in to Easter weekend, interest rates have returned to very low levels.  This has been helpful to the NNN REITs and REITs in general which rallied nicely on the week.  There continues to be mispricing in NNN REITs, however with the cheaper ones like GPT, GNL and WPC still having room to run in my opinion.
March retail data came in strong which has helped CBL and WPG recover slightly.  That being said, the stocks have a long way to go until full recovery.  We anticipate a slight gain in sales per square foot for the companies in the first quarter and this should be viewed favorably by the market.
Commentary may contain forward looking statements which are by definition uncertain.  We retain no obligation to update or correct forward looking statements should the available information change.  Actual results may differ materially from our forecasts or estimations.
2CHYP Portfolio Snap Shot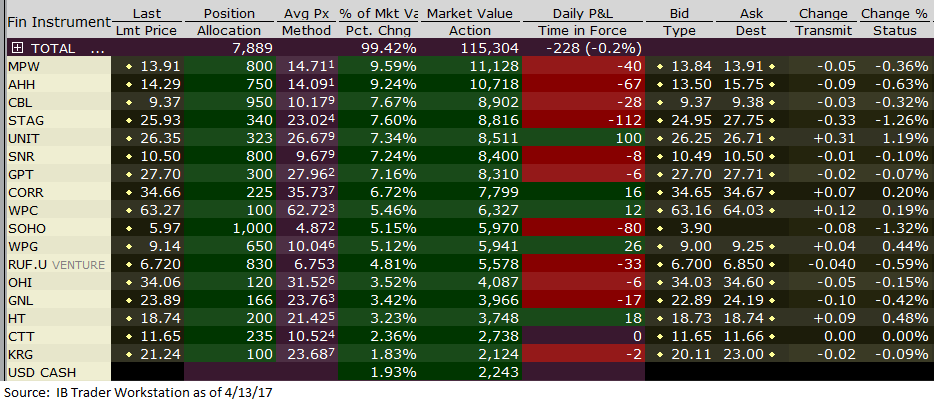 4/12/17 2CHYP Performance since inception
2CHYP Weekly Trade Confirmation Report