Company news and the Fed
While I still don't think REITs are fundamentally interest rate sensitive, it is rather nice when the pendulum swings in the other direction.  Yellen's dovish testimony this week made the market think a rate hike will be delayed until December or potentially even not at all.  This gave REITs a pretty good week and 2CHYP was lifted by the rising tide.
Additionally, we had some company specific news this week:
OHI raised its dividend again, continuing its ever growing streak.  The pattern seems to be a penny raise every quarter.
GNL's CEO resigned and was replaced.  While the outgoing CEO stated that there was no problem between him and the company, we remain a bit concerned by his departure.  At 60 years of age and healthy, retirement seems unlikely.  The stock did not respond significantly to the news, but we will watch it with increased apprehension.
Finally, due to SNR's positive price performance we decided to take the gains.  It was purchased as a deep value play and with the movement it was closer to regular value than deep value.  If it dips back down we would certainly give consideration to getting back in.
Commentary may contain forward looking statements which are by definition uncertain.  We retain no obligation to update or correct forward looking statements should the available information change.  Actual results may differ materially from our forecasts or estimations.
2CHYP Portfolio Snap Shot
7/13/17 2CHYP Performance since inception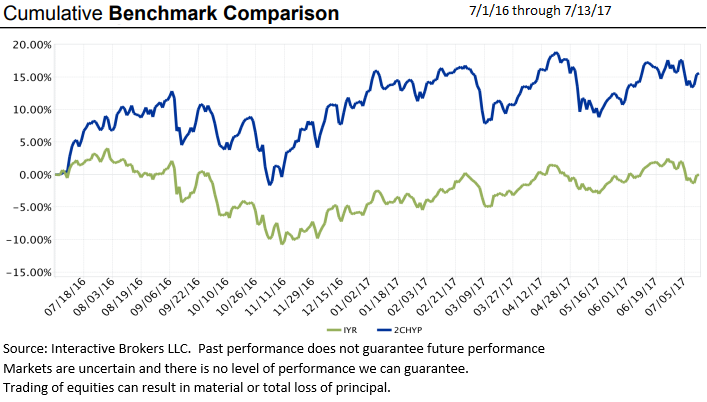 2CHYP Weekly Trade Confirmation Report