Earnings season returns
Each quarter earnings kick off with some of the large caps reporting first.  While we are not in these names, the reports can provide a preview for our related REITs.
Crown Castle (CCI) reported continued growth at a medium pace, but more importantly gave color commentary on their fiber business.  5G rollout is happening faster than anticipated and importantly it is not just the phone carriers but also the "internet of things" that is driving the demand.  Fiber will be essential to deploying small cells and UNIT is well positioned to profit.  Since Uniti's fiber is on average only used at 20% of bandwidth capacity, they have plenty of room to lease to additional tenants.  This could diversify UNIT's business and provide additional revenues with minimal extra cost.
Prologis (PLD) reported strong earnings with the greatest NOI growth coming from the US.  This bodes well for both STAG and PLYM.  If either of these companies can demonstrate mid single digit same store NOI growth, multiple expansion could follow.  One risk factor revealed in the PLD call is some increasing supply in Chicago which is a major market for both PLYM and STAG.  I believe they are partially isolated from new supply as the new properties primarily compete with Class A, but there could be a trickle down which caps rents.  We will pay extra attention to the performance of this submarket once the supplementals of PLYM and STAG come out.
The Department of Justice put out a memo saying that it intends to alleviate overcrowding in BOP (Bureau of Prisons) prisons by moving some detainees to private prisons.  This seems to be good news for CXW and it shot up almost 5.5% on the news.  Just a few days ago Core Civic signed a new contract with the Kansas Corrections department for a build-to-suit facility.  Each piece of news is an incremental positive for long run FFO.
Commentary may contain forward looking statements which are by definition uncertain.  We retain no obligation to update or correct forward looking statements should the available information change.  Actual results may differ materially from our forecasts or estimations.
2CHYP Portfolio Snap Shot
1/25/18 2CHYP Performance since inception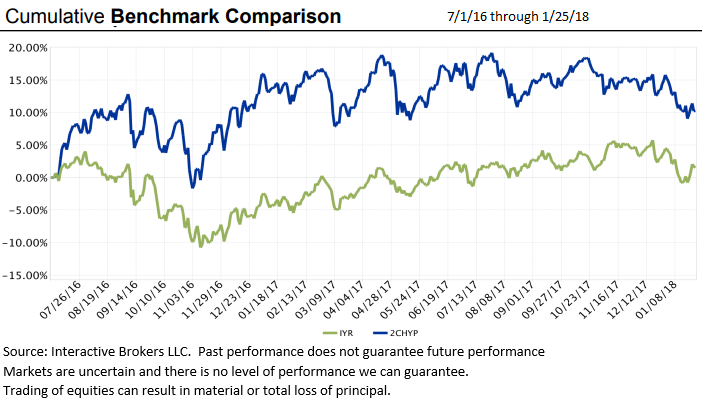 2CHYP Weekly Trade Confirmation Report