REITWEEK takeaways
Each June, we attend REITWEEK and meet with as many management teams as we can pack into our schedule.  The intent is to gain insight into both individual companies and trends in REIT sectors.  Among the companies held in 2CHYP, we met with the management of CXW, GNL, IRM, JCAP, MPW, PLYM, SOHO, STAG, UMH, and WPG.  Many of these teams we had met with in the past so for these, it was more of an update while other meetings led to real insights.
Core Civic has a particularly capable management team with a solid strategy for significantly growing the bottom line.  We see FFO/share growth coming from 2 main levers:
Occupancy could increase by as much as 1000 basis points over the next few years
Build-to-suit developments using the Kansas transaction as a template
CXW's growth pipeline seems to be bigger than we had previously anticipated and we find it quite opportunistic at the current multiple.
Plymouth canceled the offering as the price at which it would have executed would have been significantly dilutive.  This was partially based on the advice of shareholders which we believe is a good sign for alignment.  Instead, it looks like PLYM's growth path will be a significantly smaller offering followed by issuance through an ATM.  This is a cheaper and less dilutive method which will better preserve the NAV inherent in its properties.
WPG maintains a sizable debt forgiveness opportunity in which liabilities can be functionally erased by allowing underwater properties to go back to the lender.  Most of these are cash flow negative, so it would be accretive to FFO/share as well.
UMH Properties is making headway into unlocking Freddie Mac financing which would be a large source of low cost debt.  As they are currently operating at below target leverage, there would be an opportunity to translate the cheap capital directly into accretive purchases.
Industry takeaways
Investors generally seem to be more optimistic about retail than they have been in recent months.  Questions shifted away from survival and toward growth.  Both shopping center and mall REIT prices have risen since the conference.
I fear the industrial space is becoming overcrowded.  It seems as though every REIT that is even tangentially exposed to industrial is trying to buy logistics facilities.  I believe this will drive cap rates below what is financially rational and could punish those who continue to acquire.  This bodes well for those that already own industrial properties as it will raise NAV, but external growth prospects will be reduced.
2CHYP Portfolio Snap Shot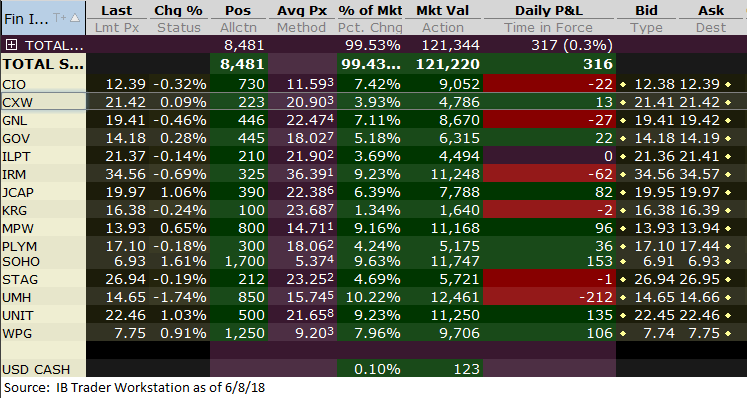 6/7/18 2CHYP Performance since inception
2CHYP Weekly Trade Confirmation Report:  No trades this week