Overpriced REITs
We don't short stocks in 2CHYP, but it is still good to know what stocks are overvalued as it can impact the overall REIT market.  There are entire areas that we see as overvalued as well as individual securities so let us get to it.
Pure play industrial REITs are broadly overvalued.  Those on the cheaper end like STAG or PLYM are approximately at fair value while the middle to high end of the pack is traded at extreme valuations.  Cap rates in the 4 to 6 range are not sustainable in an area of the market as cyclical as industrial REITs.  It is almost as if the market has forgotten what happened during the financial crisis where industrial REITs got decimated.  Location for general distribution purposes is reasonably fungible within a few miles, so when demand ebbs from the sector, the real estate is forced to compete on rate.   We are underweight the sector while maintaining some exposure to the upside through companies like GOOD which has industrial exposure without the industrial REIT multiple.
Safehold (SAFE) is a ground lease REIT that is essentially negative earnings on a current basis.  They use GAAP accounting which straight lines their 70+ year leases with annual escalators.  This makes their reported earnings look far higher than what they are actually taking in.  Between excessive G&A and interest expense, we calculate negative earnings when looking at cash rents as opposed to GAAP rents.  The market has bid SAFE up to an unsafe level and we see substantial downside ahead.
Innovative Industrial (IIPR) has come down a fair amount, but it still remains wildly overvalued along with the rest of the cannabis bubble.
Healthcare REITs have run up a bit too far in my opinion.  Skilled nursing facilities are currently operating at razor thin EBITDAR coverage of rent (about 1.2X on average).  Given the susceptibility of their business models to changes in regulation or reimbursement, we see SNFs as generally dangerous.  Senior housing remains oversupplied and is having trouble maintaining occupancy even in the strong economy.  A slight downturn in the market would erode nest eggs and thereby reduce demand for senior housing.
Medical Office and Hospitals are much better positioned than the rest of the sector, yet MPW and GMRE trade at compellingly cheap multiples compared to SNF and SH peers.  We will happily take the better property types at a cheaper price.
2CHYP Portfolio Snap Shot
 2CHYP Performance: inception through August 2019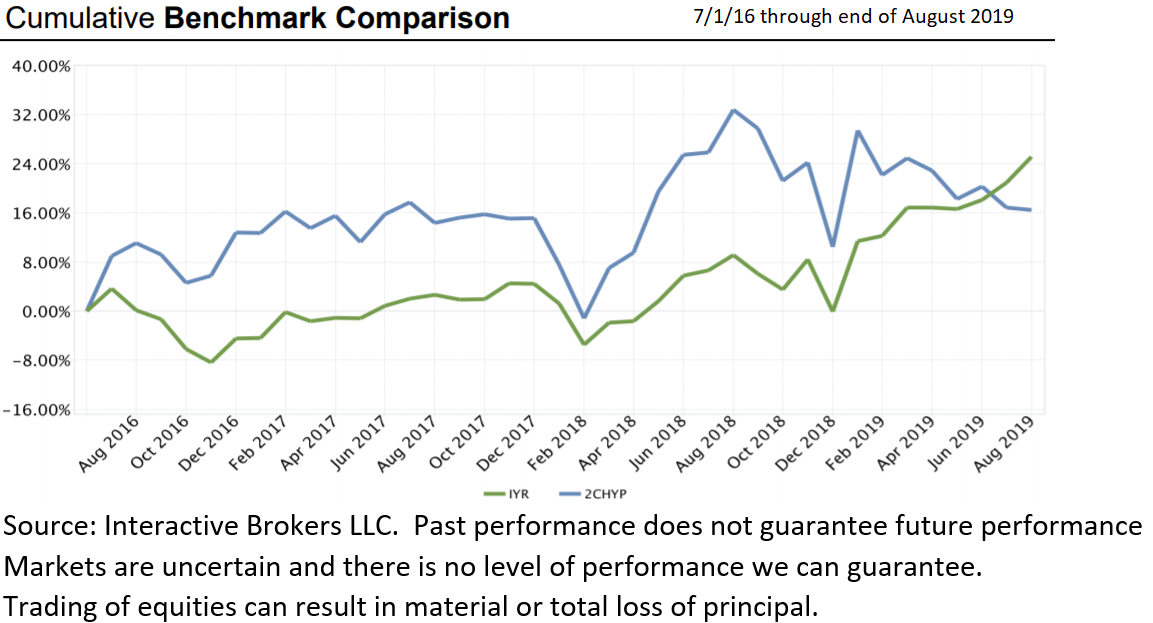 2CHYP Weekly Trade Confirmation Report