Don't read into the price recovery
The first 3 days of this week were mind boggling.  Our retail stocks were up 10 to 30% while REITs as a whole were down.  A similar but less extreme rise was seen in our other stocks as well.
What does it mean?
We see 3 possible explanations.
A short squeeze forced buying. Many of the highest risers had elevated short interest
A value renaissance. Across the board, overvalued stocks were down while those with cheap multiples were up.  This occurred in both REITs and the broader market
Just noise
While the price gains are certainly appreciated, I do not consider them all that meaningful.  These stocks have not been de-risked just because prices rose.  Ultimately it is the fundamentals that matter, so despite the wild upswing, the most important news of the week for our retail REITs was the August retail sales number which came in reasonably strong at +0.4% M/M compared to consensus of +0.2%.  There was also an upward revision of July sales.
This mildly increases the probability that mall fundamentals will turn positive in 2020.  Good news, but not as good as the wild price gains would suggest.  Oddly, the price gains occurred on virtually no news for the sector and retail REITs actually traded down modestly on today's release of the positive fundamentals.  Basically, market price movements mean nothing right now.
Buy and sell decisions should be made on fundamentals.  The reasonably strong sales trajectory bodes well, but we won't find out for sure until we get results from the redevelopments.
The same could be said of UNIT.  The stock is up or down 3% on any given day, but its long term value rests on what happens in December when the lease negotiation is slated to finalize.
When these volatile stocks drop 10% it does not mean something is wrong and on weeks like this one where they rise considerably, it does not mean everything is going to be okay.
Just focus on the fundamentals as the market price eventually converges.  Based on data that is available today, I continue to believe fundamental value is significantly above market prices for the stocks we hold.  It is a matter of waiting for the fundamentals to fully develop and diligently monitoring along the way.
2CHYP Portfolio Snap Shot
10/28/16 2CHYP Performance since inception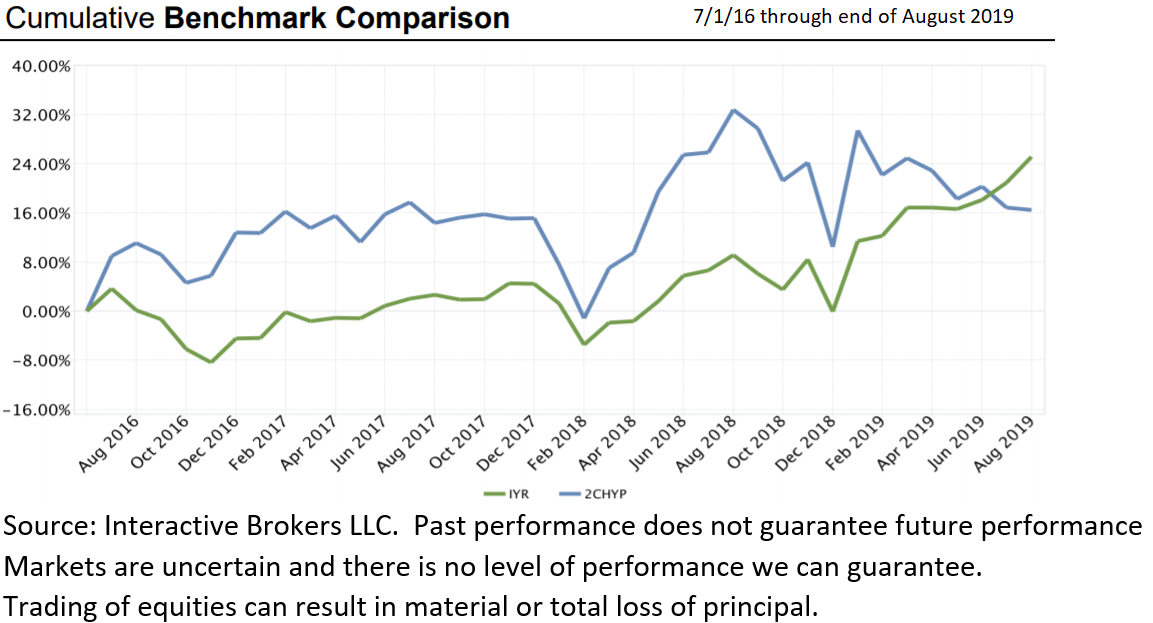 2CHYP Weekly Trade Confirmation Report: No trades this week.